Turn users into loyal customers with Instagram DM automation
Leverage Instagram Messenger chatbots  API to grow sales, provide 1:1 support and improve engagement on the most popular social media app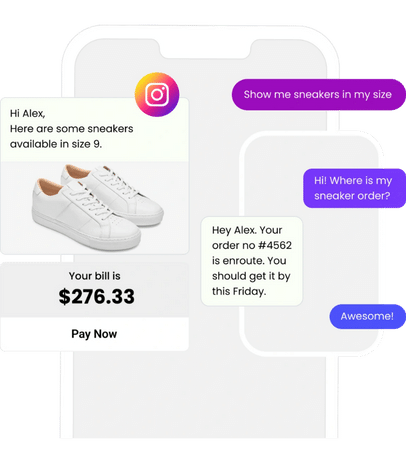 Turn users into loyal customers with Instagram DM automation
Leverage Instagram Messenger API and chatbots to grow sales, provide 1:1 support and improve engagement on the most popular social media app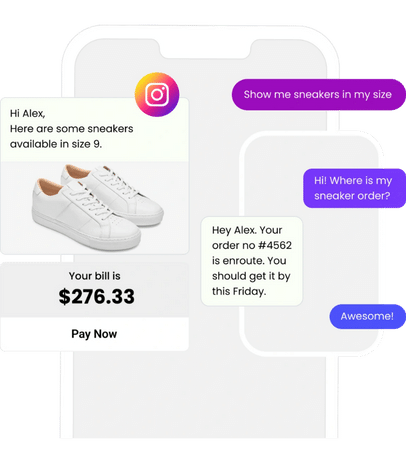 Increase marketing ROI with 2-way conversations
Run automatic click-to-chat advertisements, gather leads, and look after potential customers right away
By immediately responding to product questions on sponsored posts and stories, you can help people make decisions. Integrate automated messaging into campaigns and competitions to increase the impact of your posts.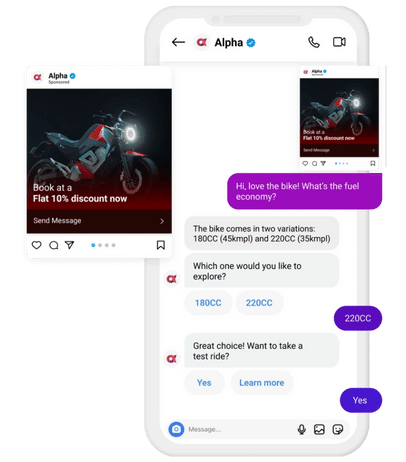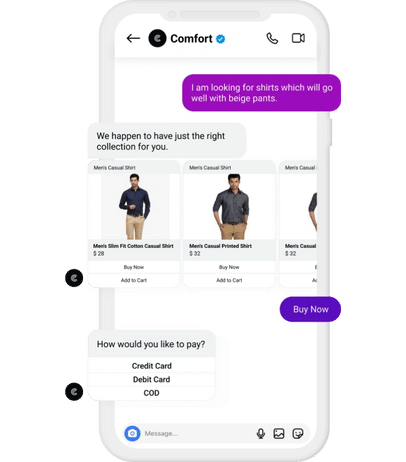 Grow sales by making commerce conversational
Save sales bandwidth with automated upsell,
cross-sell recommendations and pre-built answers.
Convert intent into purchases by leveraging rich templates and informative, engaging carousels.
Arrest drop-offs due to redirection by enabling
purchases and payments within Instagram DMs.
Instant assistance within Instagram will raise CSAT
Offer post-purchase assistance, order monitoring, deal with return requests, and switch between live agents on Instagram.
Send private replies in response to remarks made on public posts and story mentions.
By replacing Instagram DMs with support chatbots, you can minimise customer wait times and cut expenses.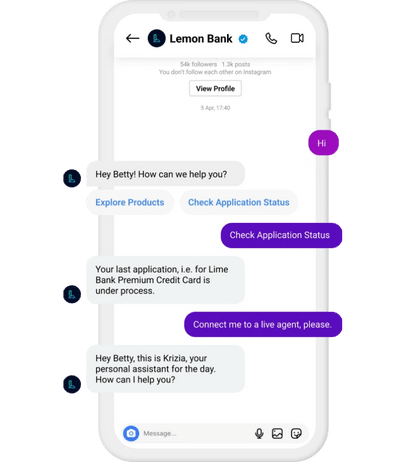 Scale and grow your business with WhatsApp Commerce. Increase sales conversions boost engagement and improve customer loyalty

Build stronger customer connections with WhatsApp Business API. Engage customers across sales, marketing and support journeys.