WhatsApp evolved from personal messaging to an important tool for businesses to boost sales and personalise customer interactions. It offers conversational storefronts.
What's more, WhatsApp has an established reputation for delivering impressive growth, high conversion rates, and a substantial ROI.
Using WhatsApp API for customer connections, service or appointments puts you ahead in the game. However, To boost sales, create a WhatsApp product catalogue alongside existing API connections.
Don't worry if you're new to this – it's not complicated. Let's explore the steps together and see how you can leverage the power of WhatsApp to boost your sales and improve customer engagement.
WHAT IS A WHATSAPP CATALOG ?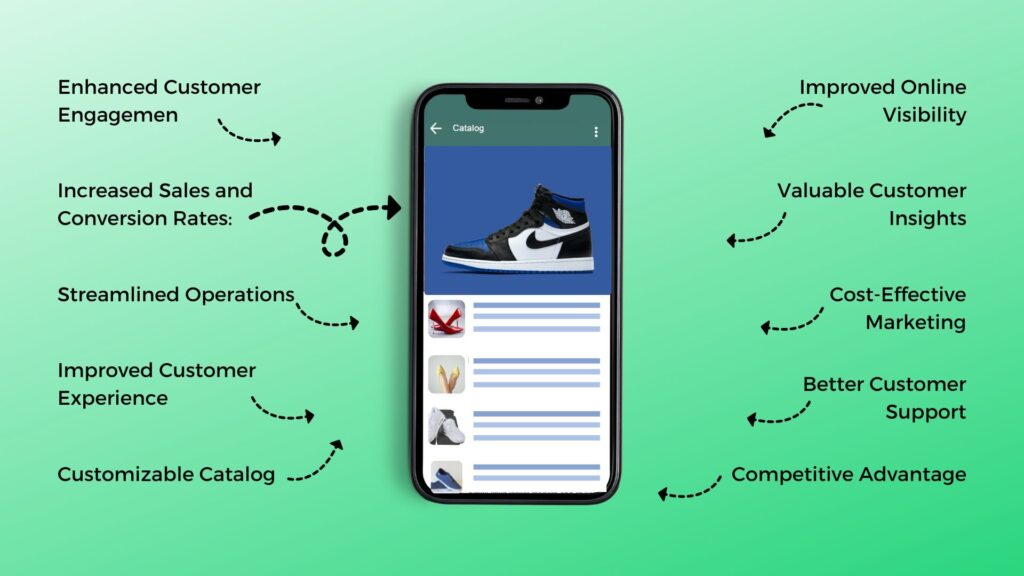 The WhatsApp Catalog is a powerful tool that can revolutionise the way businesses showcase their products. By leveraging this app, you can easily create and manage a product catalog  on WhatsApp, streamlining the browsing and buying process for your customers.
With WhatsApp Catalog, you can consolidate your sales process onto one platform, eliminating the need to switch between multiple apps. You can even enhance your catalog with visually appealing product images, detailed descriptions, and accurate pricing information.
As WhatsApp continues to dominate the messaging landscape, integrating Catalog into your business strategy can be a game-changer. Make the most of this innovative solution to boost your online visibility, enhance customer engagement, and drive sales growth.
CHARACTERISTICS OF WHATSAPP BUSINESS CATALOG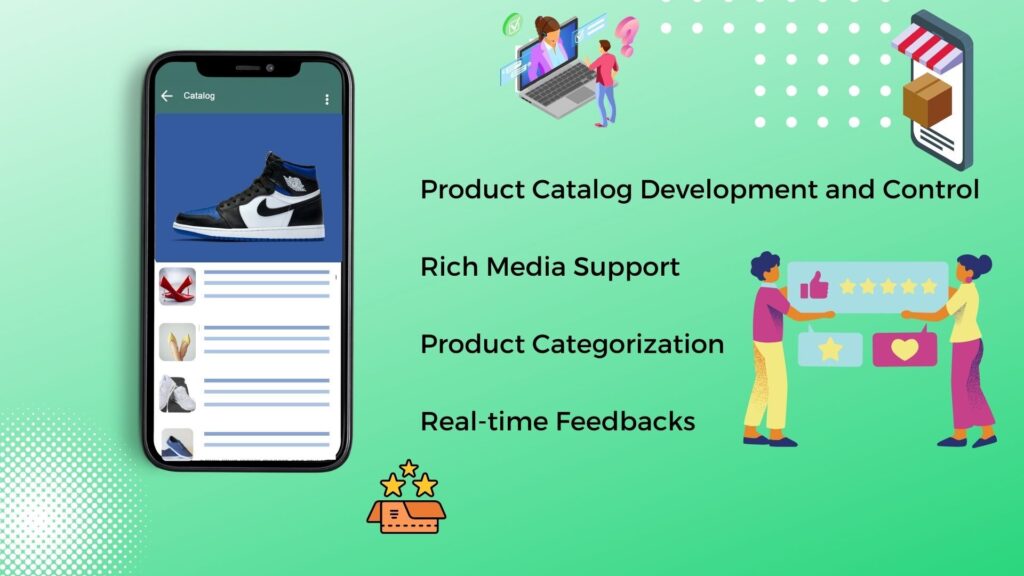 WhatsApp Catalog offers a plethora of exceptional characteristics that can elevate your business to the next level. Here are some of the coolest features you'll love:
1. Product Catalog Development and Control:

Developing and controlling  your product catalog on WhatsApp has never been easier. Your customers can now purchase products from you without leaving the app.

2. Rich Media Support:

WhatsApp Catalog allows you to showcase your products with rich media, including images, descriptions, and prices, making your products look their best.

3. Product Categorization:

With product categorization, you can organise your products into categories, making it easier for customers to find what they're looking for.

4. Real-time Feedbacks:

Keep your customers up-to-date with real-time updates and  feedback, ensuring that they always have the latest information on your products and pricing, also they can have better engagement with your business.
By utilising these features, you can streamline the browsing and buying process for your customers, consolidate your sales process, boost your online visibility, enhance customer engagement, and drive sales growth.
ADVANTAGES OF WHATSAPP CATALOG
1. Enhanced Customer Engagement:

The WhatsApp Catalog API allows businesses to engage with their customers in a more personalised and convenient way, leading to increased engagement and loyalty.

2. Increased Sales and Conversion Rates:

The catalog makes it easier for customers to browse and purchase products within the app, leading to higher conversion rates and increased sales.

3. Streamlined Operations:

By using WhatsApp Catalog, businesses can manage all their WhatsApp communications in one place, saving time and resources.

4. Improved Customer Experience:

The rich media support provided by WhatsApp Catalog ensures that customers can access the latest information about products and prices, improving the overall customer experience.

5. Customizable Catalog: The catalog can be personalised to make it an effective marketing tool to promote the business and its products.
6. Improved Online Visibility:

With a WhatsApp Catalog, businesses can improve their online presence and increase their search engine ranking by leveraging the SEO benefits of WhatsApp.

7. Customer Insights:

The catalog can help businesses gain valuable insights into their customers' preferences and shopping behaviour, which can be used to optimise their marketing strategies.

8. Cost-Effective Marketing:

WhatsApp Catalog provides a low-cost, high-impact tool to maximise marketing ROI and reduce costs associated with traditional marketing tactics.

9. Better Customer Support:

The catalog can improve customer support by providing real-time support and assistance to customers through WhatsApp.

10.Competitive Advantage:

Businesses can differentiate themselves from competitors who are not yet utilising WhatsApp Catalog, gaining a competitive advantage in the market.
Elevate your Business Marketing Game with WhatsApp Catalog
Looking to elevate your business marketing game? Look no further than WhatsApp Catalog, the innovative tool that makes it easy to connect with your target audience and increase sales.
With WhatsApp Catalog, you can set up a virtual store to showcase your products and services in an organised and visually appealing way. Plus, the platform's rich media support ensures that your audience can access the latest information about your offerings, enhancing their overall experience.
So why wait? Take advantage of WhatsApp Catalog to streamline your marketing efforts, gain valuable insights into your customers' preferences and shopping behaviour, and stay ahead of the competition. Join the ranks of successful entrepreneurs who have already harnessed the power of this versatile tool to grow their businesses.